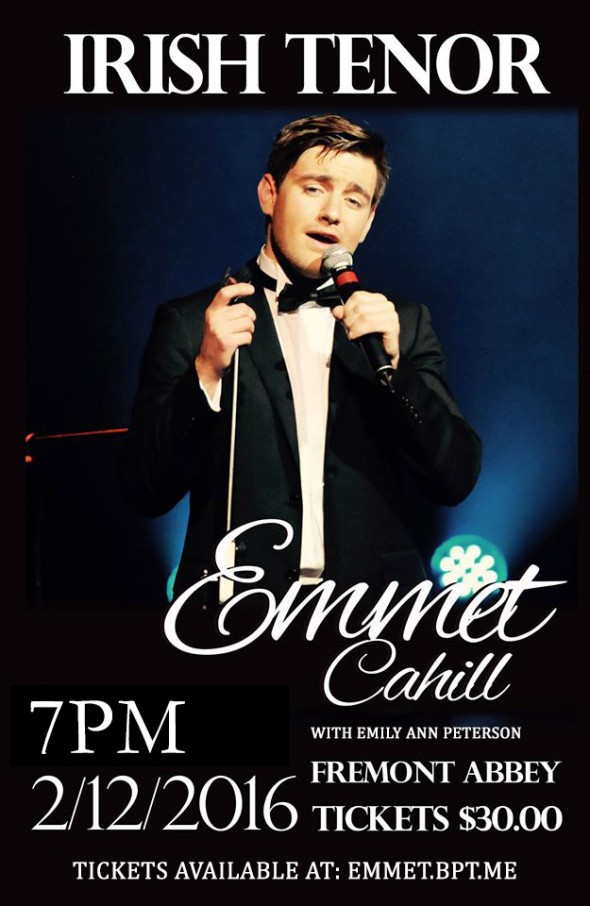 2/12 Emmet Cahill (of Celtic Thunder)
with Emily Ann Peterson  
Meet & Greet 6pm. – Show Time 7pm
(Music will begin with an opening set by Emily Ann Peterson followed by Emmet Cahill taking the stage at 7:30pm)
After his sold out tour of the west coast in 2015, Celtic Thunder star Emmet Cahill returns to Seattle to play an intimate concert at Fremont abbey this February 12th.  Named Irelands most exciting young singer last year, multi award winning tenor Emmet has been performing to audiences across the world for many years. Emmet will treat his fans to a concert of Irish classics, Broadway hits, modern classics and much more.
As a recording artist, string-arranger, songwriter and session musician, Emily Ann Peterson has had the honor of working with Sera Cahoone (Sub Pop), Shelby Earl, Shannon Stephens (Asthmatic Kitty), Goldfinch, The Portland Cello Project, Rosie Thomas (Sub Pop), David Bazan (Barsuk), The Northwest Symphony Orchestra, Anaïs Mitchell, Karin Stevens Dance, Barcelona (Universal), and many others.
Emily currently holds or has held membership in the Northwest Symphony Orchestra, Seattle Rock Orchestra, the National Academy of Recording Arts and Sciences (The Grammys), Fremont Abbey Arts Center, Suzuki Association of the Americas, and New Directions Cello Association. She is an alumnus of the Colorado Suzuki Institute & Texas Cello Academy, and is a founding faculty member of the Coda School of Music. – See more at: http://emilyannpeterson.com/start-here/#sthash.lvNmCkle.dpuf
SUPPORT:  Have a drink for charity! We serve local beer from Two Beers; local cider from Seattle Cider and Schilling Cider; Washington wine from Wilridge Winery, a rotating cocktail from Sound Spirits Distillery. This is a fundraiser event for Literacy Source, building a literate community and promoting self-sufficiency by providing learner-centered instruction to adults in English literacy and basic life skills.