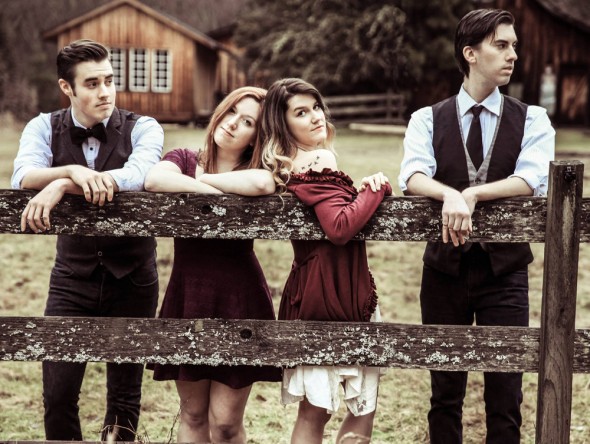 *9/10 Rabbit Wilde (Wild Rabbit – Bellingham) EP Release Party
with guests Preacher's Wife and Patrick Chadwick.
All ages, bar w/ ID.  7:00 doors, 8:00 show.
"Rabbit Wilde captures the wind, the streams and the mountain air in their songs. Their beautiful vocal harmonies take you down a well-beaten path in the wilderness accompanied by rhythm and melodies from the classic Americana folk instrument family…This quartet of incredible musicians have lassoed the Northwest spirit and infused it into their own brand of storytelling lyrics and deep and passionate hearts for the land they grew up in." –The Hype
"Even those who don't read this will be drawn to the sound of Rabbit Wilde's Americana Stringband thanks mostly to the seraphic vocals of string player Miranda Zickler. Her voice, bookended by the Hamer brothers on uke and [guitar], plus cello will have you giddy and glad to be alive." –The Stranger, The Lowdown on Summer Meltdown 2014
SUPPORT: This event is a benefit show with all bar profits going to a local charity. We serve ALL LOCAL Hilliards, Two Beers Brewery, Seattle Cider, Schilling Cider;  Wilridge Winery, and a rotating cocktail from Sound Spirits Distillery. Support for this show goes to 6th Day Dance, a nonprofit dedicated to bridging the gap between dancers and those with mental or physical disabilities.