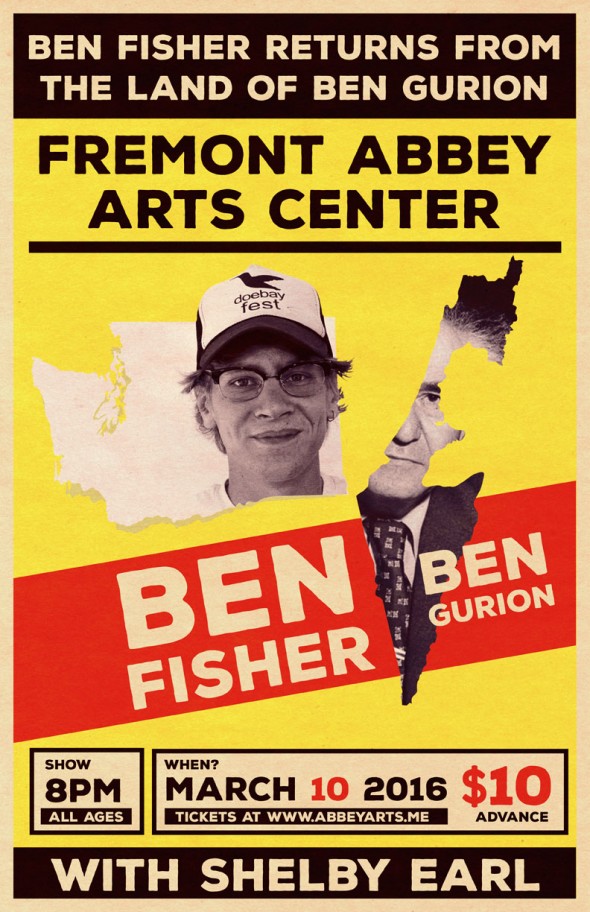 3/10 Ben Fisher
with Shelby Earl
Ben Fisher Returns From The Land Of Ben-Gurion
Ben Fisher is visiting the Pacific Northwest this spring and will be playing his first show in Seattle in over a year and a half.
In this one-off performance, he'll be previewing songs from the concept record he's working on, titled Does The Land Remember Me? before jetting back to Jerusalem to work more on the record, eat copious amounts of falafel and enjoy the 85 degree weather that will be waiting for him.
Have a question about what it's like writing a concept record about Israel or about daily life in Jerusalem? Shoot an email to benfisherband@gmail.com and it'll be discussed at the show.
_____
Shelby Earl is an American singer-songwriter and musician based in Seattle, WA. Earl's first solo album, Burn the Boats, was produced by John Roderick (featuring members of Telekinesis, The Long Winters, Fleet Foxes and more) and released on Local 638 Records (owned and operated by Visqueen's Rachel Flotard). In 2011 NPR's Ann Powers named Earl her "new favorite songwriter" and Amazon.com dubbed her album the "#1 Outstanding 2011 Album You Might Have Missed".
Earl released her second solo album, Swift Arrows, produced by Seattle indie folk artist Damien Jurado, in July 2013. The album was recorded live at Seattle's Columbia City Theater.
SUPPORT:  Have a drink for charity! We serve local beer from Two Beers; local cider from Seattle Cider and Schilling Cider; Washington wine from Wilridge Winery, a rotating cocktail from Sound Spirits Distillery. This is a fundraiser event for Literacy Source, building a literate community and promoting self-sufficiency by providing learner-centered instruction to adults in English literacy and basic life skills.