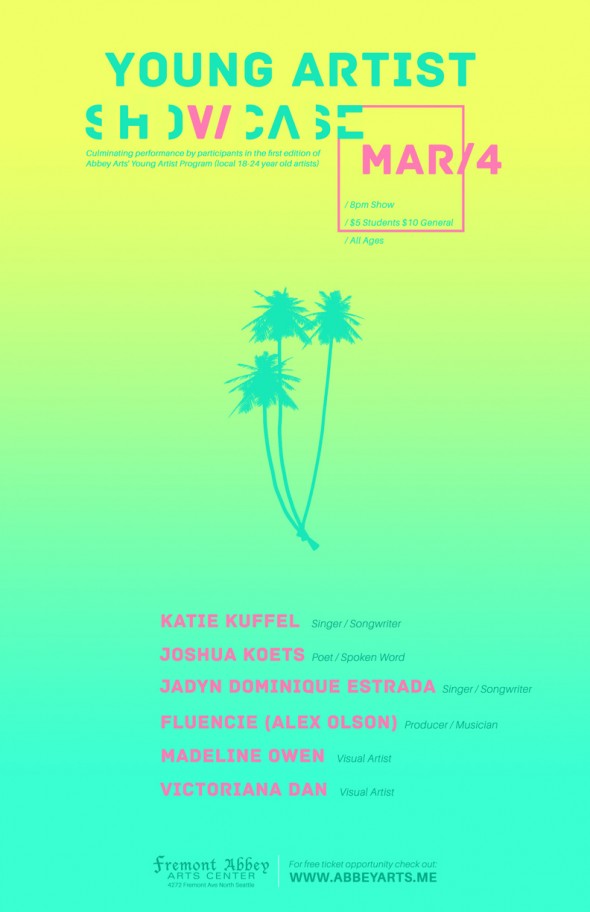 March 4, 2016:  Young Artist Showcase
Doors @ 7p;  Show @ 8p
Abbey Arts has launched the premiere iteration of a new Young Artist Program. The program is a career-development workshop series designed to help young Seattle area musicians, performance poets, and visual artists to learn & grow towards a sustainable career in the arts.
The Young Artist Program focuses on the business of being a professional artist and is designed to create ongoing support for youth 18-24 who are serious about their craft.
This showcase serves as the culmination of the members' growth and collaboration over the past 6 months.
#WINabbeyarts on Instagram or Twitter = 1 in 4 chance to win a free ticket to a show!  Or Volunteer!
GROUP 1 MEMBERS:
Katie Kuffel: Singer/Songwriter
Jadyn Dominique Estrada: Singer/Songwriter
Fluencie (Alex Olson): Producer/Musician
Victoriana Dan: Visual Artist
Madeline Owen: Visual Artist
Joshua Koets: Poet/Spoken Word (Unable to perform tonight but look for him at a future event)