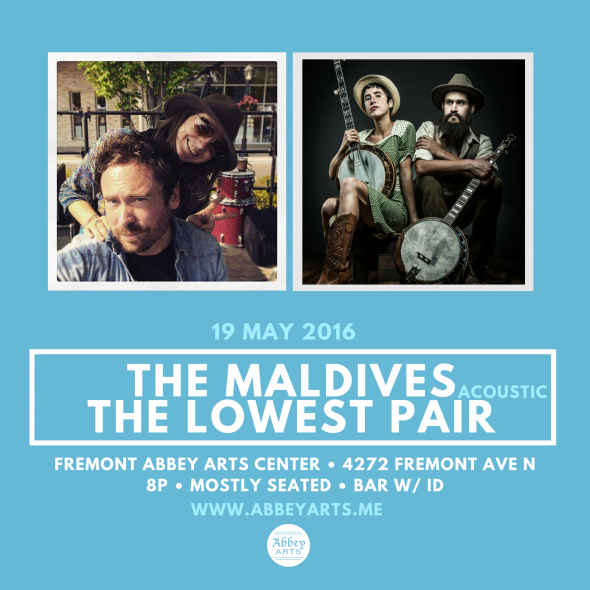 5/19 The Maldives Acoustic
with The Lowest Pair

All ages, mostly seated, Bar w/ID
"It's a love letter to classic American songwriting, a wonder of well-nourished craftsmanship. That title: poetry. As evocative a phrase as any you'll hear this year." – City Arts Magazine
"More important, the songs on their third album are their sharpest batch to date, ranging from Thin Lizzy – influenced rockers to desolate, country-steeped ballads." – KEXP 90.3 // Seattle
"Catchy choruses and classic rock and roll guitars will never be out of style, and in turn, neither will Muscle For The Wing." –Aquarian Weekly (NJ)

"Muscle For The Wing rocks with dueling electric guitars, arrests with sweeping ballads and engulfs with full harmonies – al while maintaining the band's more crucial elements, Dodson's intoxicating songwriting and incomparable heart." – Portland Willamette Week
"Several of the songs are simply breathtaking…a contender likely to compete for album of the year." – Blurt-online.com
Americana group from Olympia/Minneapolis. A Double Banjo duo featuring Kendl Winter and Palmer T. Lee.
"With their bare-bones instrumentation and country-inspired, heartstring-tugging narratives, The Lowest Pair might be one of the best under-the-radar Americana duos today."
-Hillary Saunders from PASTE Magazine
SUPPORT:  Have a drink for charity! We serve local beer from Two Beers; local cider from Seattle Cider and Schilling Cider; Washington wine from Wilridge Winery, a rotating cocktail from Sound Spirits Distillery. This is a fundraiser for Literacy Source, building a literate community and promoting self-sufficiency by providing learner-centered instruction to adults in English literacy and basic life skills.