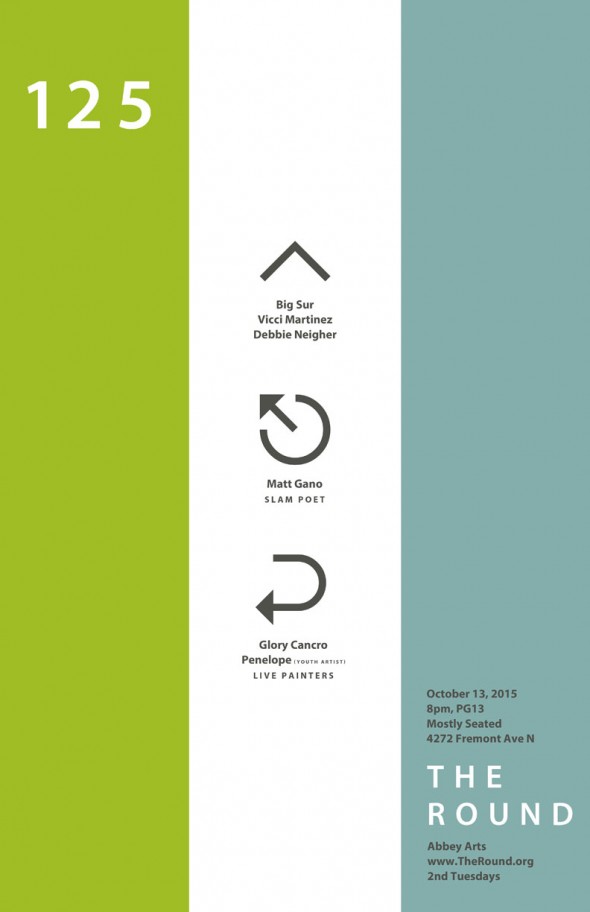 10/13 The Round (#125) featuring musicians Big Sur, Vicci Martinez, Debbie Neigher, and more sharing the stage with slam poet Matt Gano and live painters Glory Cancro & Penelope (youth artist). 2nd Tuesdays @ Fremont Abbey Arts Center. TICKETS:  $8 advance / $10 door  |  Facebook Event 
The 125th event in our monthly series of collaborative arts performances. Each month a curated lineup of three musicians share the stage with a slam poet and live painter. Always a unique performance with different artists. Audience sits up close just a few feet away for this intimate listener oriented concert experience. Curated by Nathan Marion.
Vicci Martinez is a recording artist known for passionate performances, powerhouse vocals, and forging her own path—independently releasing music and touring the country for years before being a finalist on the first season of The Voice, NBC's primetime singing competition, in 2011. On the show, she was mentored by CeeLo Green and they released a single together, "Come Along," for her major label debut, Vicci. Martinez has shared the stage with BB King, The Roots, Ed Sheeran, Train, and more. She has returned to releasing music independently with a new found energy and urgency, a new ferocity. On May 1, 2015, she released I Am Vicci Martinez, written and produced with Enter-Exit-Stay. Its lead single, "Bad News Breaker," made its debut to nine million viewers on an episode of The Voice. Her music is raw, personal, powerful, and now—"Finally!" she says—the music she wants to dance to.
An artist with a gift for earnest lyricism, Debbie Neigher is one of San Francisco's most promising singer-songwriters.